Setting Briggs Ignition Timing
Install a top dead center finder tool to the top of the cylinder along with a degree wheel and pointer. Rotate the motor one direction until it stops, read the number on the degree wheel. Rotate the other direction until it stops, read the number. Keep doing this until the number comes up the same, turning both directions until it hits the stop. For more detail on this procedure see - TS Degree Wheel set up.
After finding top dead center (TDC) install a dial indicator and bracket over the piston. Rotate the motor back and forth and set your indicator to 0 at TDC. At this time you'll notice that the magnet is almost past the ignition. Back the flywheel up until the right edge of the magnet (not the aluminum) is directly under the point where the right edge of the right leg of the coil meets the flywheel. Look at your degree wheel. It should read 28 - 30 degrees before TDC while the dial indicator should read .195 - .210". Adjust by changing key numbers starting with a #4 key. You may have to file the key to get your desired timing. Retorque the flywheel to 75 foot pounds.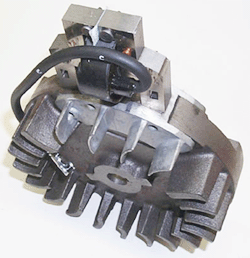 TS Racing, Inc.
123 West Seminole Ave. Bushnell, Fl 33513 USA

Shop Hours:
Monday - Friday 7:30 am to 5:30 pm
Eastern Time


Phone (352)793-9600
Fax (352)793-4027
Orders Only 800-962-4108
We are your one stop shop for all your karting needs!!!
Remember, we don't just build killer engines (over 120 National Titles), we carry a full line of karts, parts and accessories. We are Florida's largest warehouse distributor for karting's biggest names. If you don't see a specific idea or part in our catalog just ask, we probably have it or can get it soon.
WE accept Mastercard, Visa and Discover
Shipping by UPS and FedEx
Email: Info@TSRacing.com


Design by B/Z Technologies
Web site comments to: Webmaster@tsracing.com
Copyright © 1998 - 2012 B/Z Technologies. All rights reserved. Terms of use.